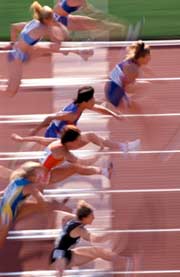 I'm a track fan, so I really enjoyed watching the World Track and Field Championships over the past two weeks. Fortunately, I was able to watch three different versions of the meet: NBC, CBC and the live feed the live feed on the internet as provided by the CBC and Universal Sports websites.
And once again, it has become very clear why viewership for the sport is so poor in the U.S.  The television commentary provided by NBC was so horrible it detracted from the enjoyment of the event. Little technical information was provided – not enough to educate new fans or please aficionados. Lead play-by-play man, Tom Hammond sounded like a parody of an FM-radio announcer, and colour man, Ato Bolden, while certainly a knowledgeable sprinter and a huge step up from Carol Lewis, babbled incessantly at a volume so high it sounded like he was announcing professional wrestling. Dwight Stones and Lewis Johnson seemed to compete with each in making ridiculous comments, and trackside interviews were often inane and showed a lack of knowledge of the sport…for example, asking athletes, were still breathing hard after their events, what they thought about Jesse Owens.
The CBC team of Mark Lee and Michael Smith is much better and I enjoy listening to them. Smith has improved every year and with his decathlete's background knows what he's talking about.
However,  the Cadillac of track commentating was provided by the Brits who announced the live feed on the internet. They demonstrated a combination of expertise, authority, eloquence, passion and frequently amusing turns of phrase. They were able to convey excitement by raising their voices only when warranted. Here are some examples of commentary by the Brits:
"Away it goes, high and handsome. Splendid form for Thorkildsen!"
"He really did hit it through the point of the javelin."
"When he's good, he's very, very good. When he's bad, he's very, very bad. Tactically inept at times, but sometimes he can be devastating."
"Victory, yes, but for how long. Rodgrigues definitely tried to push her way through a space that just wasn't there. The tragedy of this is, even if the Spaniard is disqualified, Burka will never get a medal."
"Oh dear, it's another no-jump. Three no-jumps in the final of a world championship. No wonder she's distraught."
"Beekele ran 2:24 over the last 1000m of the 5k – equivalent to running a 3:36 1500m over the last part of the race. That's why Lagat didn't have enough to hold him off at the end."
Here's a video example of exciting track commentary:
British Announcer – Usain Bolt's 100m
http://www.youtube.com/watch?v=OAPqQMCI9H4
Compare to the NBC coverage of the same race:
NBC Coverage
http://www.youtube.com/watch?v=qslbf8L9nl0
If Americans ever want to develop support for athletics in their country, they should hire a British coverage team.
Dick Moss, Editor,
PE Update.com
To subscribe to the free PE Tips of the Week Newsletter, Click Here!
To check out the PE Update.com website, Click Here!
[tags]track and field,IAAF Championships,World Track and Field Championships,track announcing,track announcers[/tags]