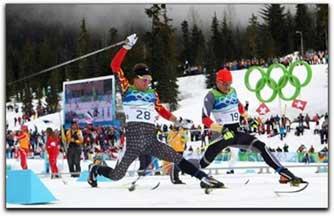 The Winter Olympics are over, and if you're like me, you're feeling a huge void in your life! That's particularly true here in Canada, where Olympaholics like myself became accustomed to following the Games in the mornings, at the office, during meals, in the shower, and late at night.
It's interesting, but for those 17 days, I completely forgot about the Toronto Raptors, a team I'd been following before the Olympics. Somehow, the struggles of the millionaire players on that squad seemed inconsequential compared to the efforts of the world's snowboarders, curlers, nordic skiers, ice dancers,  skeleton racers, and bobsledders, many of whom live below the poverty line.
I was particularly interested in the efforts of two athletes, Canadian hockey player Rebecca Johnston and cross-country skier, Devon Kershaw. I coached them both in their high school days, when they were competitive runners in addition to being phenoms in their chosen sport.
They were both excellent runners, having won medals at the provincial, and in Rebecca's case, the National Junior level (in the 400m).  I can take absolutely no credit for their Olympic success – they made wise choices in specializing in sports other than running. But it sure was fun watching them perform at the highest level, at our home Olympics, under the most intense scrutiny they'll ever face.
Rebecca, a speedy forward on the team's "energy line," won a gold medal in hockey – Canada's game- with every eye in the country watching her every move! At only 20 years of age, she played with incredible composure and was a threat to score every time she took the ice.
Devon helped put Canada's men's team on the map in cross-country skiing, placing a surprise fourth in the men's team sprint (a two-man relay), then a shocking fifth in the 50km mass start – the most prestigious of the cross-country skiing events. Better known as a sprinter, he missed fourth by a photo-finish and a bronze medal by .5 of a second.
My favorite moment of the Games was Devon's interview immediately after his race, when, exhausted and emotional, he was asked why he was so upset. He said, that it was a tough pill to swallow to have skied for two hours only to come up 1.5 seconds from a gold medal… Not the bronze, not a silver. but gold. What a mental shift from an athlete who went into the race ranked 27th, and before the Games would have thought a top-10 finish to be a dream result.
For me, that's why Olympics are so addictive to so many. The pressure-filled atmosphere allows us a glimpse into both the athletic evolution and the true character of the athletes we observe, and if we're lucky, with whom we've associated.
You can see the finish of Devon's race and his interview at:
http://www.ctvolympics.ca/cross-country-skiing/results-and-schedules/event=ccm750000/phase=ccm750101/highlights.html
Dick Moss, Editor,
PE Update.com
To check out the PE Update.com website, Click Here!
To subscribe to the free Fun Stuff for PE Newsletter, Click Here!

[tags]Winter Olympics,Olympic cross-country skiing,Olympic nordic skiing,,Olympic hockey[/tags]