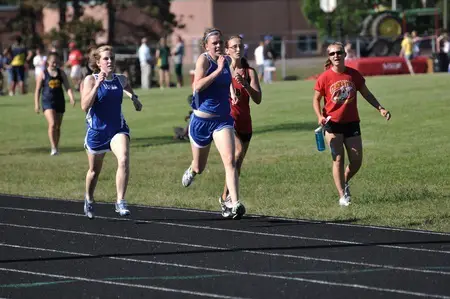 As the scholastic sport season winds down, I'd like to post this message from a coach to his athletes. Circumstances beyond his control left Colin Ward, the head track coach at Lo-Ellen Park Secondary School, unable to attend the city championships with his athletes – athletes with whom he'd been working for months.
While he couldn't be there in person, he sent a message that encompasses practical advice with inspirational words. It also embodies the true spirit of scholastic sport.This is the message he sent before the meet.
"Coach's Send-Off
I want to say good luck to all of you as you head into the City Championships! I wish I could be there to see all of our training pay off. I want you to know, you all have the capacity to exceed yourselves, most of you have worked very hard to get to this point, and with these few tips you will be able to make the most of your experience this week!
1. Cheer for each other and watch each other! Most people need an audience, or at the very least, appreciate the words of encouragement that come from friends and team mates.
2. Support each other. Some people will have great days and simply need to be congratulated, others will have bad days, and just need a friend to sit with.
3. The little things matter! Our team usually does better when the conditions are horrible because we pay attention to details. That means……..
Rest the day before, and get a good sleep before and during competitions.
•    Eat well and drink lots of water,
•    STAY OUT OF THE SUN AND WIND
•    Dress properly. You should have the clothes to stay warm in any weather. The engine only works when it is hot! If you get cold, you may as well throw away months of training.
•    Cool down! Most of you know to warm-up properly, but if you don't cool down you are slowing your recovery. A light jog for 10 -20 minutes is a good use of time after an event.
4. Focus on the positive. You might not do as well as you were hoping to, but beating yourself up over it won't do any good. Focus instead on what went right, then think about areas for improvement. This is not always easy to do in the heat of the moment, but it is worth keeping in mind.
5. Have fun!! High School will be over before you know it. Enjoy these moments with your team and friends. Years from now it won't matter how you did, it will just matter that you did.
And post videos and pictures for me, I'll be following the events closely."
This is the final blog post until September. I won't post during the July or August vacation period because I'm not sure there'll be anyone to read them. Have a great summer!!
Dick Moss, Editor, 
PE Update.com
Dick Moss, Editor,
PE Update.com
To check out the PE Update.com website, click here
Physical Education Update
[tags]physical education,track and field,coaching,coach>[/tags]