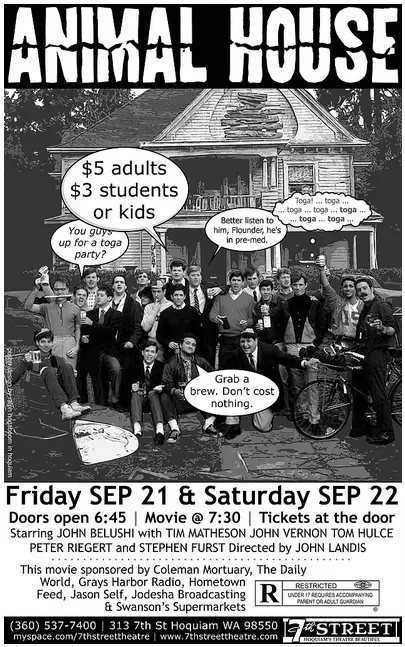 I had a visit from one of my former runners the other day. She was in her first year of university and told me that her social activities included parties at a fraternity house.
In my own incredibly funny way, I asked her whether the fraternity looked like Animal House and if she had danced with Blutto .
After wiping the laughter-tears from my face, I noticed that she hadn't indulged in the levity. In fact, she was looking at me with the squinty-eyed expression you'd use during an encounter with the fellow who sits on the park bench babbling about alien visitors while wearing tinfoil on his head .
I responded with " You know, Animal House? The movie?  Blutto..John Belushi?  You must have heard of John Belushi?"
She really had no idea what I was talking about and said that maybe it was time for her to go home.
Then it hit me. While it seems like just yesterday to me, in fact, Animal House was first screened in 1978. That's 35 years ago!! Belushi died in 1982. It had all taken place years before Rebecca was even borcn.
Talk to any North American in their 40's or 50's and they'll know the terms "Animal House" and "Belushi." They are cultural milestones for us. But for someone who is only 19, they are ancient, obscure history. Not unlike the Sonderbund War or Napoleon Bonaparte's sister.
It's tough to take, but my youth is apparently now part of the unknown history of today's students. And unless their parents are nostalgia buffs, students really won't learn about Fonzie and Belushi and Laverne and Shirley and a large number of my other comedic and cultural references.
For example, yesterday, I mentioned that one of my runners, who was a little sore, should probably train on the treadmill. I told her she could watch the Boob tube while running. "The what?" she said. "Boob tube," I responded. She had no idea what I was talking about. So, I think generational slang might be the first verbiage to disappear as the years go by. No matter that the title, YouTube is probably derived from Boob tube. Your current students may not realize this at all.
So, if you're a teacher in your 40's or 50's, watch your jokes and cultural references in class. Your material might be hilarious to me, but your students may not know what you're talking about.
Dick Moss, Editor,
PE Update.com
To check out the PE Update.com website, Click Here!
To subscribe to the free Fun Stuff for PE Newsletter, Click Here!

[tags]physical education curriculum,Animal House,John Belushi,teaching,humor in the classroom[/tags]