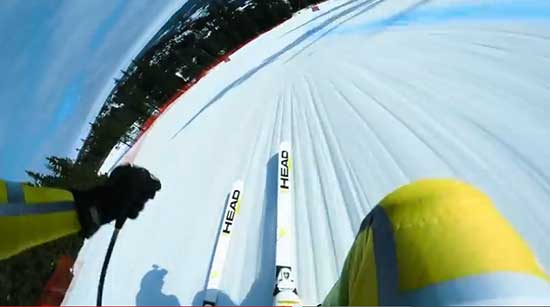 The Winter Olympics have just been put to bed and with it the adrenaline rush you get from watching death-defying high-speed sports.
Two of my favorite events are downhill skiing and the giant slalom. That stems from the days of the Crazy Canucks, a group of Canadian downhill skiers who made Canada's first impact into World Cup skiing in the 1970s and '80s. During a sport psychology clinic in the 1980s, I remember watching a video of Dave Irwin. A camera was mounted on this Crazy Canuck and he was miked up so we could hear his self-talk as he plummeted down the mountain. It was exhilarating, frightening and gave me tremendous respect for these daredevil athletes. It also provided an inkling into the fear and doubt these athletes must overcome in order to perform their sport.
There's a new video that reprises that early Irwin video. It follows legendary skier Aksel Lund Svindal of Norway, an Olympic Champion in the Super-G in Vancouver and five-time World Champion in downhill, giant slalom, and super combined. The video is taken on a downhill course, the year after he suffered a season-ending injury due to a horrendous crash.
The camera work, some of it "Go-Pro" style is incredible. The sense of speed, danger and courage, and the mental games required to conquer the fear associated with downhill skiing is communicated wonderfully. The back-view of Svindal's knees over his very narrow skis shows how fragile are the human beings who attempt to harness the brute power of these massive mountains.
It took me a few moments after watching this four-minute video for my heart rate to recover. And I only watched it… and I don't ski!
It's filmed in full 1080p. I'd advice you to select that setting, go full-screen and settle in for four minutes of adrenaline rush.
As physical educator, one of your jobs is to inspire your students to take up a sport and chase goals. This video might inspire one of your charges. And it might even teach them some Norwegian!
Dick Moss, Editor,
PE Update.com
To check out the PE Update.com website, click here
Physical Education Update
[tags]physical education,winter sports,downhill skiing,giant slalom,Olympics,Aksel Lund Svindal,In the Blink of an Eye,Crazy Canucks,Dave Irwin,skiing videos>[/tags]