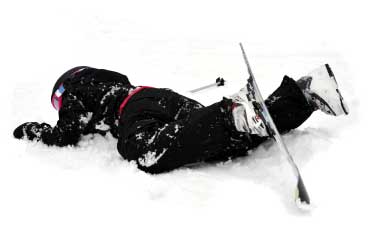 The Winter Olympics have been my constant companion since the first minutes of the opening ceremonies. In fact, they're on my office TV as I write this blog.
I'm a proud Canadian and have watched a number of Canucks, some of them favorites in their event, finish off the podium.
Skeleton racer and race favourite, Melissa Hollingsworth dropped from 2nd to finish fifth on her last run of the competition. Chris del Bosco, in sight of the finish line with a solid bronze medal in his pocket, took a risky jump and hit the deck. He finished fourth. Bobsledder Lyndon Rush crashed his sled after an excellent start – he was in third place at the time. A number of our Canadian downhill and grand slalom skiers fell on the icy slopes at Whistler.
I couldn't be prouder of them.
Why? Because these athletes could have played it safe and settled for a performance that might have netted a minor medal but would have, in their mind, been mediocre. Instead, they rolled the dice and went for it all.
There is no big payout without big risk.
It's a concept I am constantly trying to teach my young athletes. I ask them never to regret taking a gamble and pushing for more. Sometimes taking a risk works and sometimes it doesn't, but they'll never know their limits unless they try.
Thank you, Mellisa and Chris and everyone who has taken a gamble on that biggest of stages. For some of you, it has paid off wonderfully. For others it hasn't. But it's better to test your limits and crash then to always wonder how much better you could have been. It's what competing and pushing for excellence is all about. It's what the Olympics are supposed to be all about.
Dick Moss, Editor,
PE Update.com
To check out the PE Update.com website, Click Here!
To subscribe to the free Fun Stuff for PE Newsletter, Click Here!

[tags]Winter Olympics,Olympic skeleton,Olympic ski cross,Olympic bobsled,Olympic Downhill[/tags]