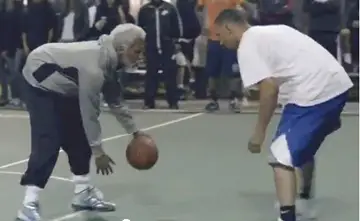 I play old-men's pickup basketball with a crew that meets every Tuesday night during the winter. Our oldest members are in their 60's and have been partaking of this weekly ritual for decades. But there are also some younger guys in their 20's who play with us.
Of course, there is some friendly trash-talking about old men and their ability to play the game (usually coming from the old men themselves). So, when I came across this video, I immediately sent it to my crew (immediately after I stopped laughing, that is).
It shows rookie NBA sensation Kyrie Irving in an amazing makeup job that makes him look like he's in his 60's or 70's. When a player in a game of playground basketball gets "hurt," Kyrie is convinced to take his place. The opponents are a group of cocky 20-something hotshots who don't like the idea of playing against an old man.
The results are hilarious and some of "Uncle Drew's" moves are amazing. I'll be trying them all next year (not!).
I don't know how many of the people in the video were aware that it was a setup (I'm pretty sure I saw NBA great, Clyde Drexler, standing on the sidelines), but it's funny regardless. And for you PE teachers and basketball coaches who have to listen to trash talk from your students about your declining hoops skills – well, send them this video!
Check out the video here:
P.S. This is the final blog before the summer holidays. There won't be a blog over the summer (who's going to read it anyway), but we'll be back in September. Have a great summer vacation! And as you can see, we're experimenting with a new, cleaner look for the blog. When you come back next Fall, we should have it finalized. I hope you like it.
Dick Moss, Editor,
PE Update.com
To check out the PE Update.com website, Click Here!
To subscribe to the free Fun Stuff for PE Newsletter, Click Here!

[tags]basketball,Kyrie Irving,masters basketball,Uncle Drew>[/tags]