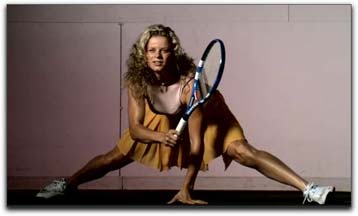 Welcome back to school! If you're looking for some inspiration, I've just found an incredible tennis video, produced by the New York Times Magazine. With the U.S. Open tennis championships just over, it's very timely.
Called "The Beauty of the Power Game, " the video shows some of the world's top female tennis players hitting the ball, close up, with special effects, in slow motion and with music in the background.  It's a wonderful illustration of the power, strength and beauty of female athletes.
Segments include: the incredible flexibility and recovery abilities of Kim Clijsters; the tremendous power generated by the backhand of Serena Williams; the ballet-like movement of a spin-around groundstroke produced by Elena Dementieva; and the rippling quadriceps of Samantha Stosur as she absorbs the shock of ground contact during a forehand. Victoria Azarenka's segement showing the ball exploding off her racquet is especially notable.
If you've ever had doubts about the strength and power of female athletes, be sure to watch this video. These women are strong, and athletic, and beautiful. It's inspirational for female athletes and coaches in any sport.
http://www.nytimes.com/interactive/2010/08/29/magazine/womens-tennis.html?ref=sports
And be sure to see the companion slide show: "Women Who Hit Hard."
http://www.nytimes.com/interactive/2010/08/29/magazine/tennis-hard-hitters.html
Dick Moss, Editor,
PE Update.com
To check out the PE Update.com website, Click Here!
To subscribe to the free Fun Stuff for PE Newsletter, Click Here!

[tags]tennis video,tennis slow-motion,Kim Clijsters,Serena Williams,Elena Dementieva,Samantha Stosur,Victoria Azarenka [/tags]